Anxiety
Over the past 25 years, ETAP-Lab has developed unique expertise in the measurement of anxiety in rodents.
Our studies have allowed us to demonstrate the anxiolytic effects of many products and ingredients of natural origin. Several of these have been the subject of scientific publications and are currently on the market.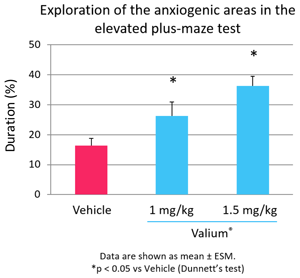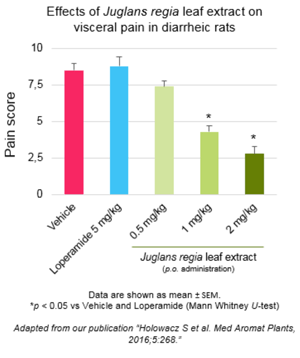 Pain
ETAP-Lab has acquired considerable expertise in the behavioural evaluation of visceral and peripheral pain in rodents.
In particular, ETAP-Lab has demonstrated in collaboration with the Institut Pasteur, the efficacy of Opiorphin, a molecule extracted from human saliva.
In addition, ETAP-Lab enriches its pathology models by measuring associated painful symptoms, such as, for example, the effects of Juglans regia on visceral pain in diarrheic rats.
Depression
For 25 years now, ETAP-Lab has been evaluating the effects of antidepressant-like ingredients and products of natural origin, using an appropriate methodology.
ETAP-Lab's unique expertise is attested to by numerous scientific publications.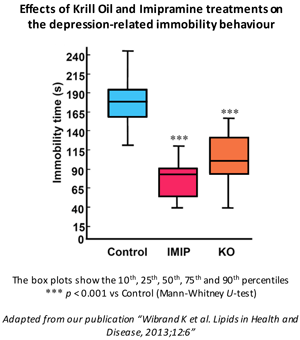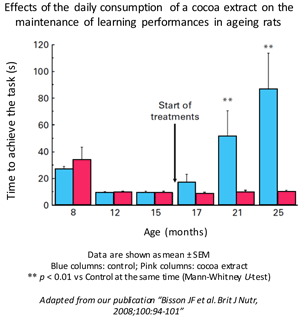 Learning & Memory
ETAP-Lab offers a range of behavioural tests for evaluation of memory and learning in the young or ageing rat, monitoring the animals up to the age of 2 years.
Methods & Technologies
ETAP-Lab grew out of a university laboratory specialized in the study of animal behaviour, and the founding idea was to offer advanced rodent behavioural analysis for the objectification of beneficial or toxic effects for brain health.
The methodologies and good practices adhered to increase the predictive value of study results:
Respect for the animals' chronobiology
Use of automated tests or video-tracking for improved standardisation of performance and exploration tests
Observation and handling of animals using a clinical approach to illustrate expected or unexpected symptoms
Systematic use of baseline products
Evolution in the performance of an animal in the process of learning to locate an invisible submerged platform in the Morris Water Maze. Learning takes place over a period of 4 days, with 4 trials per day. The time taken to find the platform at each trial is automatically timed via video-tracking.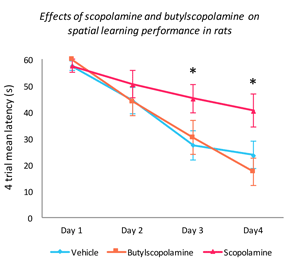 Scopolamine (1 mg/kg, i.p.) induced amnesia compared with its derivative Butylscopolamine (1 mg/kg, i.p.), which does not reach the brain. Data are shown as mean ± SEM. *p < 0.05 vs. Vehicle and Butylscopolamine (Student-Newman-Keuls test). Data from internal validation.