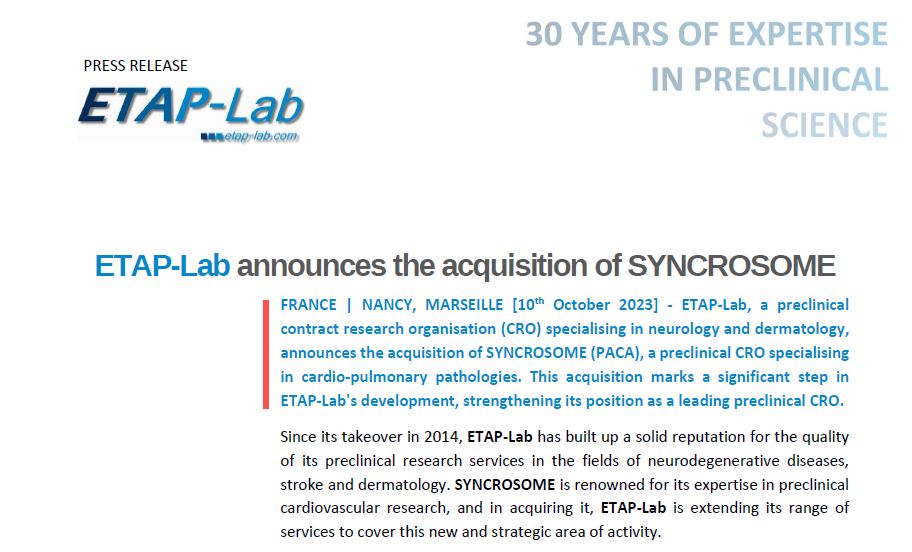 ETAP-Lab announces the acquisition of SYNCROSOME
ETAP-Lab announces the acquisition of SYNCROSOME, a CRO specialising in preclinical in vivo pharmacology services focused on cardiovascular pathologies. 🚀 This represents a significant step forward in the implementation of ETAP-Lab's strategy, which is aimed at strengthening its position as a leading preclinical CRO.
Over the years since it was founded, ETAP-Lab's expertise in neurology and dermatology has been confirmed. With the arrival of SYNCROSOME, a renowned player in cardiovascular preclinical research, ETAP-Lab is now diversifying its offering while retaining its high-end service profile, at once both agile and specialised around strong core areas of expertise.
This strategic acquisition brings together the complementary skills, cutting-edge technologies and partner networks of two well-respected market players. It enables ETAP-Lab to provide customers and partners alike with innovative solutions that will ensure faster, more robust development of their therapeutic innovations.
To find out more, please read the official press release:  English  /   French
Keep an eye on our feed to make sure you don't miss out on any news!
Follow us on