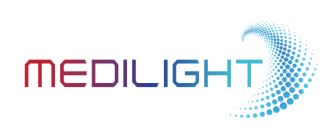 ETAP-Lab, 2018 – Newsletter #4
Within the framework of the European project MEDILIGHT, the consortium selected ETAP-Lab to outsource a preclinical study aiming at evaluating the efficacy of a miniaturized smart system built up to improve wound healing by light stimulation
Chronic wounds represent a significant burden to patients, healthcare professionals, and healthcare systems, affecting over 40 million patients and creating costs of approximately € 40 billion annually.
The European project MEDILIGHT aims to develop a smart, wearable medical device that utilizes the proven therapeutic effects of blue light to enhance the healing process. It integrates a temperature- and optical-sensor system for monitoring the status and history of wound healing during therapy.
The MEDILIGHT system consists of two components :
A disposable wound dressing with a thin and flexible illumination system and integrated sensors to provide the correct illumination of the wound and monitors its temperature and blood oxygenation.
A miniaturized non-disposable electronic module to guarantee controlling, data acquisition and wireless communication
The prototype is an ideal solution for a smart, wearable system for blue-light treatment of chronic wounds, such as diabetic ulcers. It further paves the way for the potential future commercialization of devices based on light therapy for monitoring wound healing.
Such an application is just one example of the new opportunities created by this project, as the MEDILIGHT approach could also target other medical issues in the future.
MEDILIGHT is a European consortium funded within the H2020 Framework Program with an EU contribution of EUR 3.2 million started in February 2015, the project came to an end in July 2018.
The consortium builds on the expertise of the following seven partners: Technische Universität Berlin (TUB), Germany; Laboratoires URGO, France; Ruprecht-Karls-Universität Heidelberg, Germany; Centre Suisse d'Electronique et de Microtechnique SA (CSEM), Switzerland; SignalGeneriX Ltd, Cyprus; Microsemi Semiconductor Limited, United Kingdom; and AMIRES s.r.o., Czech Republic
The project MEDILIGHT is funded by the European Commission (grant agreement no. 644267)
---
ETAP-Lab has strong experience in the field of dermatology research by developing a wide portfolio of original in vivo models.
With total transparency, our expertise and know-how include:
– Respecting chronobiology and animal well-being
– Considering chronopharmacology during treatments
– Evaluating animal behavior to confirm beneficial/ adverse effects of treatments