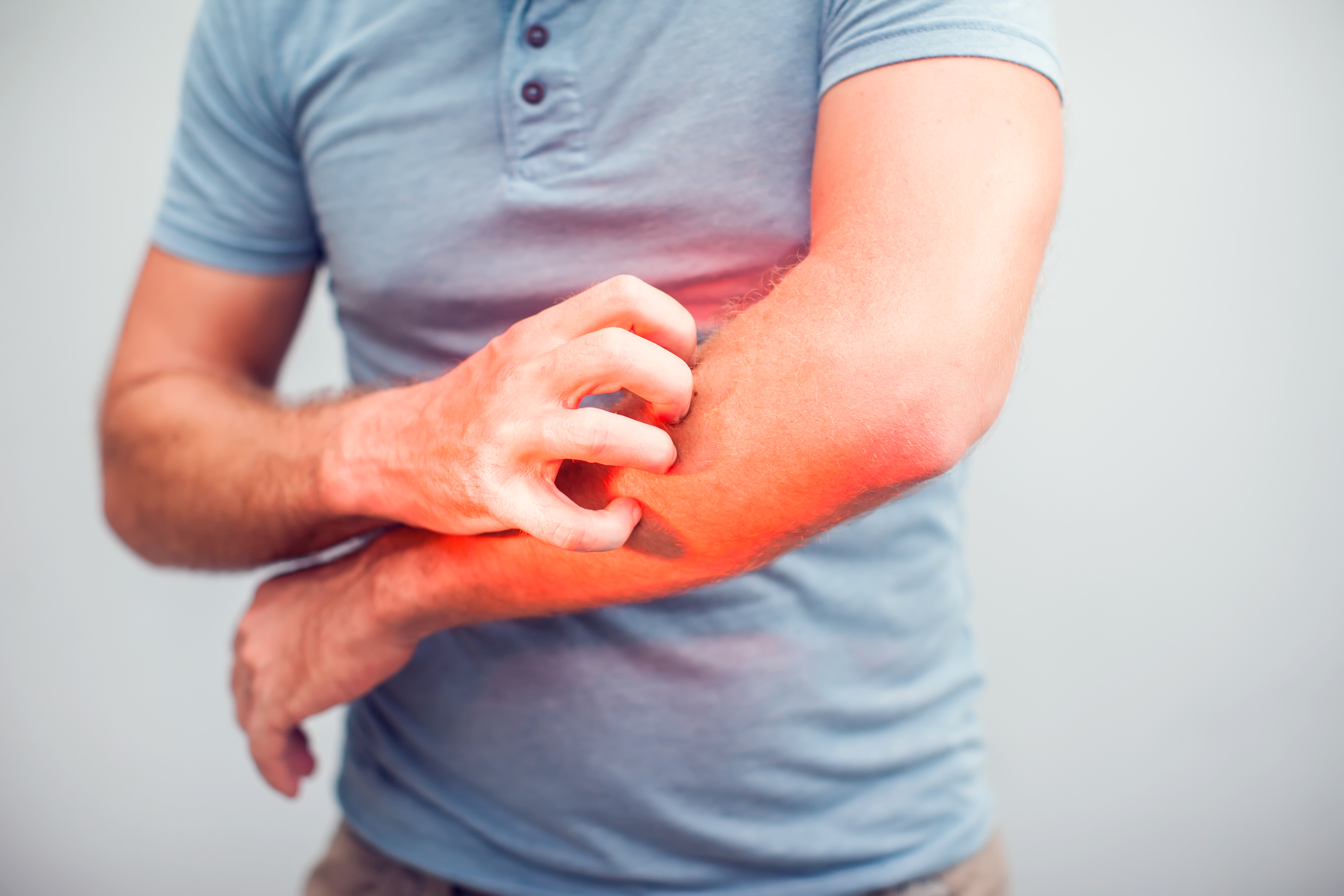 Model of atopic dermatitis in mice: feedback – Newsletter #6
In January 2018, we announced the validation of a new model of atopic dermatitis in mice. Now that we have 18 months' experience of using it, here's our feedback.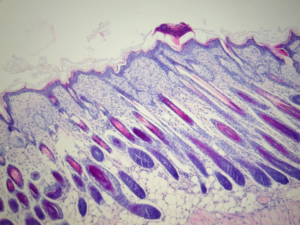 Back in January 2018, we announced the validation of a new model of atopic dermatitis in mice using topical applications of 2,4-Dinitrochlorobenzene (DNCB) over a period of 5 weeks in Balb/c mice (Newsletter #1). This validation allowed us to show that the model reproduces the essential characteristics of human pathology, and in particular:
The appearance of skin lesions with erythema, haemorrhage, oedema, excoriation, erosion, scaling and dryness of the skin
The presence of such histological markers as inflammatory cell infiltration into the dermis, along with an increased number of mast cells, hyper- and parakeratosis, and thickening of the epidermis
An increase in serum cytokine levels such as IL-1β, IL-6, IL-18 and TNF-α
Increased serum IgE and histamine levels
Induction of quantifiable itching by observing scratching behaviour
2019 has been a busy year so far; we have been able to carry out several studies on this model for international customers, including the induction of more than 300 mice in total. In addition to confirming the robustness of the model, these independent studies have allowed us to evaluate 5 new reference treatments. All this work combined serves to strengthen the value of this model as a preclinical pharmacology tool.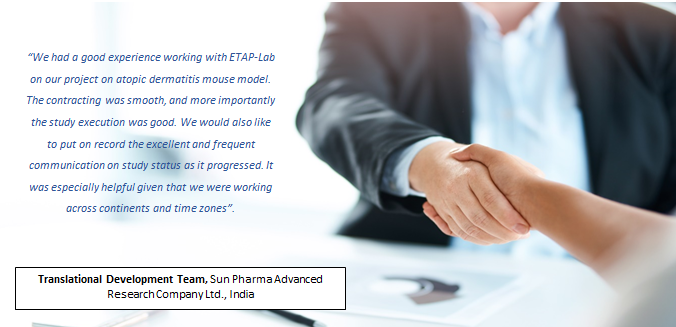 Intra- and inter-test variables
Intra- and inter-test variabilities were assessed on the basis of the Atopic Dermatitis Severity Index (ADSI), the most widely described and used primary endpoint in rodent studies (Bak et al., Exp. Dermatol., 2019). The ADSI, running from 0 to 12, was measured after 32 days of induction of atopic dermatitis, just before treatment initiation, in 4 independent studies having strictly identical induction protocols. The data show very high repeatability, with intra-test CVs of between 3.3% and 8.7%, and a repeatability CV of 7.1%. In addition, the induction of atopic dermatitis is reproducible from one study to another with a reproducibility CV of 10.1% (Fig. 1).
Figure 1
ADSI repeatability and reproducibility after 32 days in the ETAP-Lab atopic dermatitis model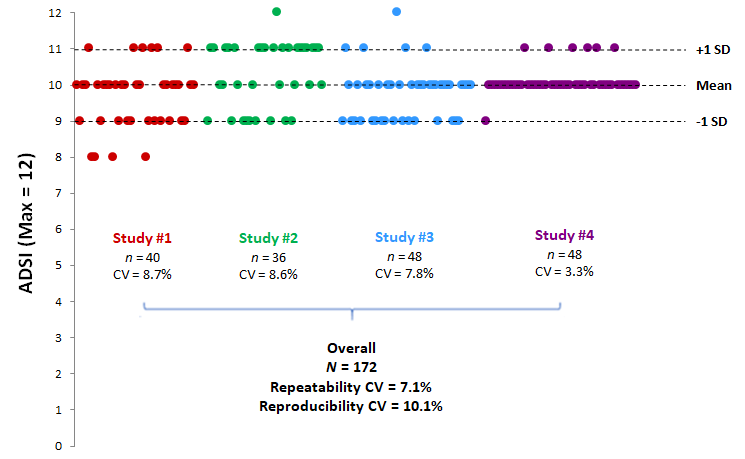 Dots represent individual data.
Reference treatments
Initial validation of the model focused on 3 dermocorticoids for topical application. Over the past year, we have expanded our range of reference treatments using molecules having clinically proven efficacy from several pharmacological classes and/or administered by different routes (Tab. 1). All these treatments resulted in a significant decrease in ADSI and an improvement in other parameters measured, in comparison with control animals. They are now available for your preclinical studies.
Table 1
Reference treatments tested on the ETAP-Lab atopic dermatitis model
More about atopic dermatitis
It affects about 10 million people in the world, leading to a significant reduction in quality of life, and its incidence is continuously rising in westernized countries. The pathogenesis of atopic dermatitis is unknown, but the disease seems to be correlated with specific immune and inflammatory mechanisms. Keratinocytes, which are the main type of epidermal cells, play a key role in the pathogenesis as they release various inflammatory mediators. The majority of atopic dermatitis patients have elevated serum IgE levels and infiltration of immune cells such as mast cells, eosinophils and lymphocytes in the skin. Mast cell activation by IgE releases inflammatory mediators such as histamine, as well as cytokines, which play an important role in allergic inflammation.
___________________________________________________________________________________________________________________________________________

ETAP-Lab has strong experience in the field of dermatology research by developing a wide portfolio of original in vivo models.
With total transparency, our expertise and know-how include:
– Respecting chronobiology and animal well-being
– Considering chronopharmacology during treatments
– Evaluating animal behavior to confirm beneficial/ adverse effects of treatments
Would you like to know more?